Who To Choose for Hosting Your Drupal Site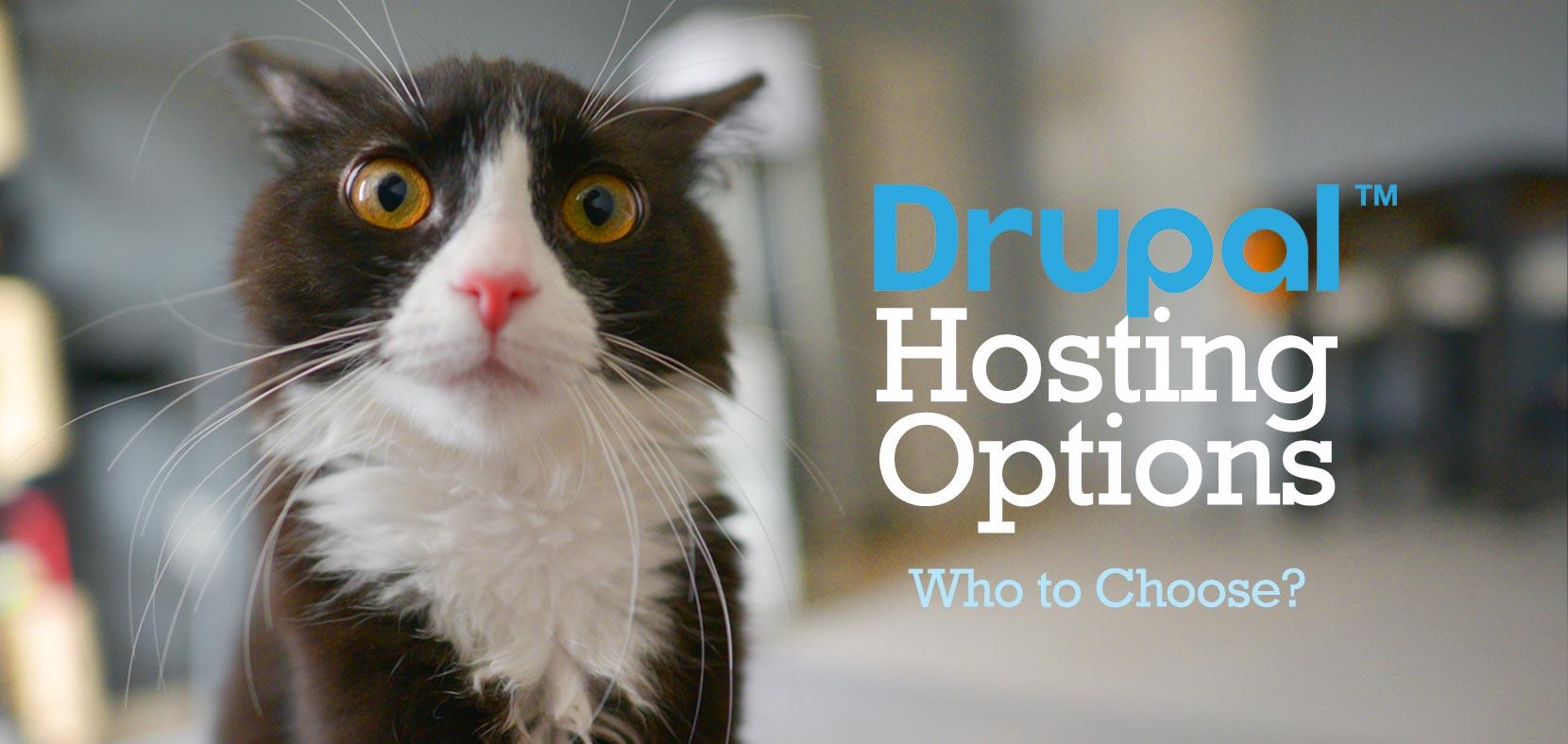 Who To Choose for Hosting Your Drupal Site
Posted on July 05, 2016 by Bob Kruse
I've been building websites for over 20 years now and with that, I've always needed good hosting. I've experienced a lot of hosting companies, some were good, some were bad, some were good then turned bad.
The problem with hosting companies is you never know what you're going to get. You can try visiting the plethora of hosting review sites, but all you ever find on review sites are bad reviews. People rarely go in search of review sites to leave good reviews (unless you're on the marketing team of a hosting company :).
When you're looking for Drupal hosting, it's easy enough to google "Drupal Hosting" and you'll find thousands of results. But, most hosting companies can host a Drupal site even though they don't promote it. In reality, Drupal only needs PHP and Mysql to run which is a fairly easy requirement to fill for any hosting company.
So Why Drupal Specific Hosting Companies?
What's good about companies that specifically host Drupal websites?
Better Server Infrastructure
They can provide a server infrastructure that is specifically optimized for running Drupal websites in a way they were designed to run.
Better Speed
They provide the bells and whistles to help Drupal run faster. Like the ability to use caching tools such as memcache, varnish, etc.
Better Support
They can provide better hosting support because they will understand the ins-and-outs of Drupal.
Preinstalled Drupal Tools
Some include the innate ability to use Drupal server CLI tools like Drush, Composer, and  Git.
Better Security and Compatibility
They will be tuned in with the Drupal community and be able to provide security notifications, server-wide security patches, and even pre-emptive server upgrades to handle nuances in upcoming Drupal versions.
How we chose the following list of hosting companies.
In researching this article, I posted a question in the LinkedIn Drupal group, asking simply "Where do you host your Drupal sites?" and over 40 people responded. So the following list is based on my own experiences plus the experience of others in the Drupal community who were kind enough to provide their input.
This isn't a spitting match write-up to say who is better than who, it's just a roundup to give you the options to choose from so you can make your own decision.
I intentionally left out developer focused hosting options and DIY cloud options as I want to present a list of turnkey (or as turnkey as possible) hosting options, so anyone reading this can jump right in.
One last disclaimer, we don't endorse or collect any affiliate payments from any the companies below. This is the list we give to clients when they ask us for hosting options since we don't provide or resell hosting.
Ok, let's go…
1. The Top Drupal-Specific Hosting Companies:
These Drupal hosting companies are the big guys in Drupal hosting. They can be expensive, but they are worth it. They were developed specifically for running Drupal websites and offer specific features just for Drupal. They provide lots of extras to help you manage and deploy your Drupal websites.
The three things they all share in common are:
They were all founded by actual Drupal users, including one by the founder of Drupal himself.
They all provide Dev/Staging test environments.
They all do Drupal hosting a little differently
Pantheon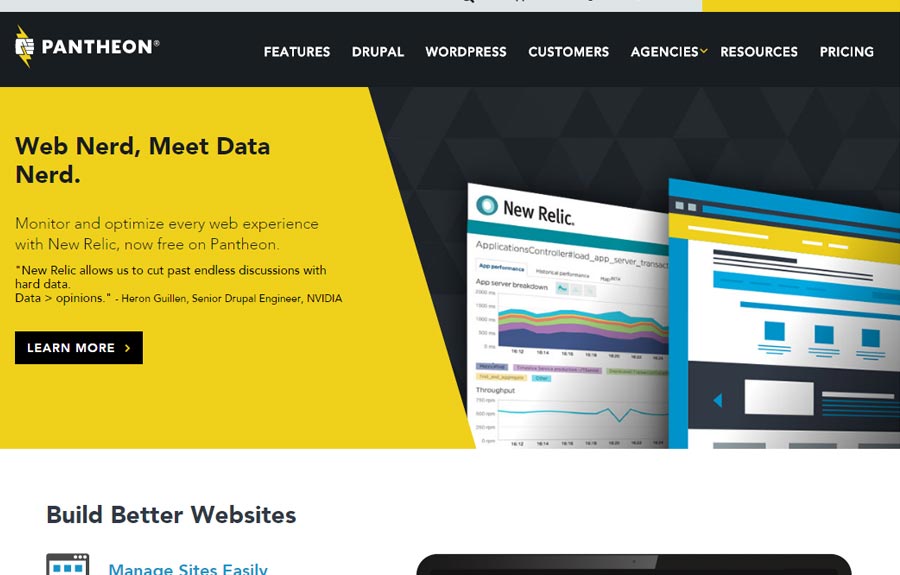 Aside from having the coolest logo of the group, Pantheon hosts over 100,000 websites. They started in 2010 and have a staff of over 100.
I recall Project Mercury which was a high performance Amazon server instance for running Drupal, it later became the foundation of Pantheon.
If you read through the Mercury Drupal group you can actually experience how the company started, as they fine-tuned Mercury, so Pantheon was born.
They definitely get a lot of love and respect from the Drupal community. According to a study by Kyle Taylor at LevelTen, he determined that Pantheon was the best Drupal hosting option when comparing price, performance, and features.
You can also read this post from Digett, Why I love Pantheon for Drupal Hosting.
Visit: https://pantheon.io/
Acquia Cloud Platform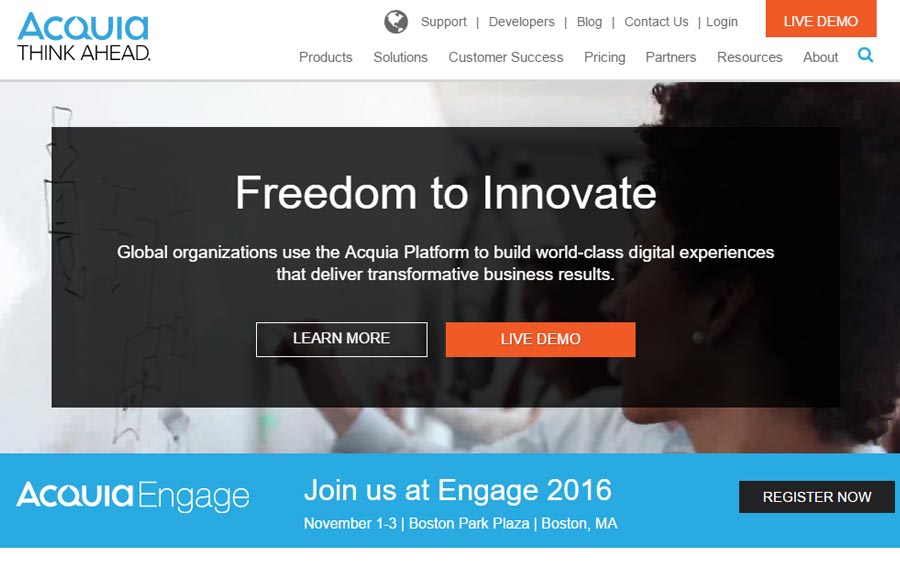 Founded by Dries Buytaert, the creator of Drupal itself is the Acquia Cloud Platform. I don't think there's anyone I would trust more than the actual creators of the software. Acquia is arguably the biggest name in Drupal and they have grown like wildfire. Their support staff alone is over 50 people! Acquia is usually where the Enterprises turn for Drupal hosting.
A great piece of software they developed is called Acquia Dev Desktop. It allows you to work on your Drupal website right on your local computer, similar to XAMPP, WAMP, MAMP, but with Drush. Then it gives you the ability to easily deploy and sync Drupal sites from the Dev Desktop directly to any of your Acquia Cloud Dev, Staging, or Live production sites. It's a really clever, powerful, and streamlined solution.
Visit: https://www.acquia.com/products-services/acquia-platform
Final Thoughts
To finish off the top Drupal-Specific Hosting Companies, I'll leave you with this great Quora thread where the founders of Acquia and Pantheon battle it out in explaining the pros and cons of each other's services.  Note that there is mention of Omega 8 and Drupal Gardens, which I didn't include in my lists. Also, note that Drupal Gardens is closing its doors, so hopefully this round-up of hosting options will help the people leaving Drupal Gardens to make an informed decision when deciding where to migrate their Drupal site.
2. Non-Drupal Specific VPS/Dedicated hosting options:
A VPS (or Virtual Private Server) is a way to get a web server with control over your own operating system, guaranteed bandwidth, CPU resources, disk space, and RAM, but without paying for your own dedicated server. While you're technically sharing a server with other people, your "virtual" server is totally separate from the others giving you better security and reliability. Plus you can install anything you want and configure it any way you want.
A Dedicated Server is not shared with anyone. You get full control over an entire computer and you can do anything with it. You get the complete resources of the machine. Most businesses will start on shared hosting or a VPS, and as traffic grows and more resources are need, they migrate their site to a dedicated machine or a cloud solution.
The following hosting companies provide generalized hosting, meaning they aren't Drupal specific, but they can still run Drupal really well. I always recommend getting a "Managed" server so they will handle all the big technical things for you, like server and system software upgrades and installations, plus trouble shooting any system issues.  These aren't as turnkey as the Drupal Specific options, but if you have a little bit of technical-chops, then you should be okay.
Liquid Web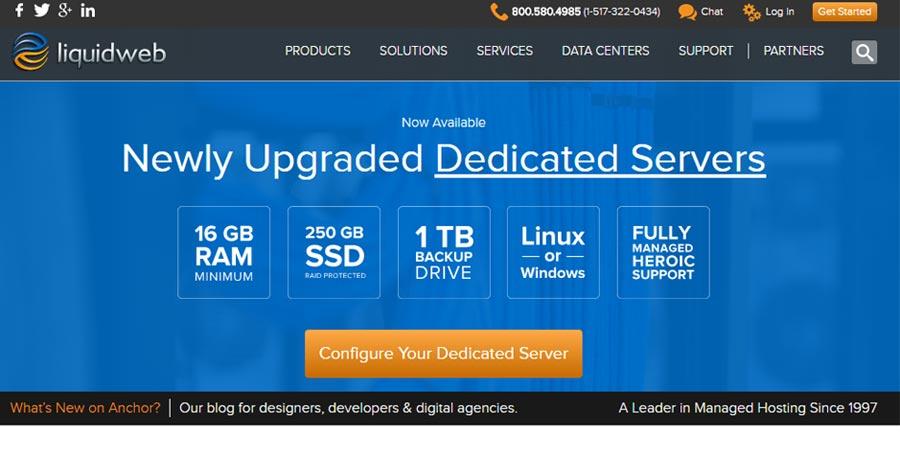 I've been using Liquidweb's managed dedicated servers for over 6 years and have nothing bad to say about them. Their support is fantastic (Heroic as they call it) and I simply trust them.  They've been in business for over 15 years and have over 400 staff members, so they are kind of huge.
They offer the full gamut of hosting solutions, so it's easy to start of small with a VPS and grow to a multiple dedicated boxes with load balancers. 
They also offer Cloud servers. So no matter what your requirements are, they can help you get set up and rolling.
Visit: https://www.liquidweb.com/
InMotion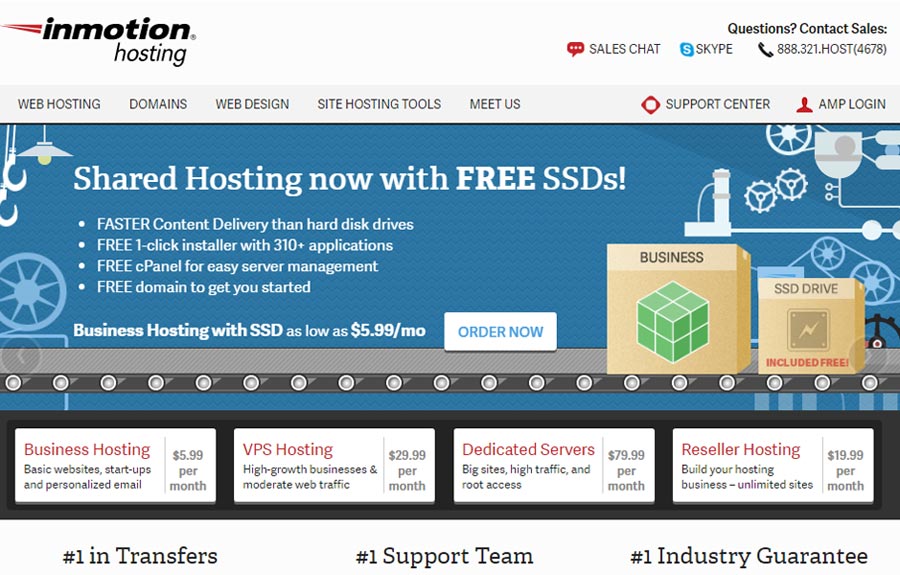 At first I considered InMotion to be another run-of-the mill webhosts, but after using their VPSs for well over a year now, I'm very pleased that their uptime has been phenomenal. I've never had to contact their tech support, everything just simply works. The pricing is great and the service is great as well.
InMotion is also a very large company that's been in business for over 14 years and has 500+ employees.
They also offer recommendations and solutions specific to Drupal.
Visit: http://www.inmotionhosting.com/
3. Budget/Shared Drupal Hosting
Lots of people say Drupal doesn't run well on Shared Hosts, well that's not exactly true. Shared hosting is the cheapest way to host a website with the trade-off being that you are sharing the same system resources with potentially thousands of other websites.
For many many years shared hosts have had a bad reputation for having slow speeds, lots of downtime, and little control over the server, but in recent years, they have vastly improved.
Myth: Shared hosts are slow
Shared hosts are much better than before. CPU speeds are also much faster than before. A lot of them are now using high speed RAIDS or SSD drives which vastly increases website speed.
Myth: Shared hosts crash a lot
In the past, a single website on a shared host experiencing a huge load of traffic could bring down an entire server and take down every site onboard. But these days, the" good" shared hosting providers have implemented ways to mitigate this risk with better infrastructure and also not over selling their servers. Let's just say you won't have as much down time as you did in 1998.
Myth: You have little control over the server settings
Also in the past, you had little control and access to your server. But now some shared hosts offer shell access, ability the manage PHP versions, and the ability to override PHP.ini settings.
So in short, shared hosting can be good enough for Drupal websites.
Bluehost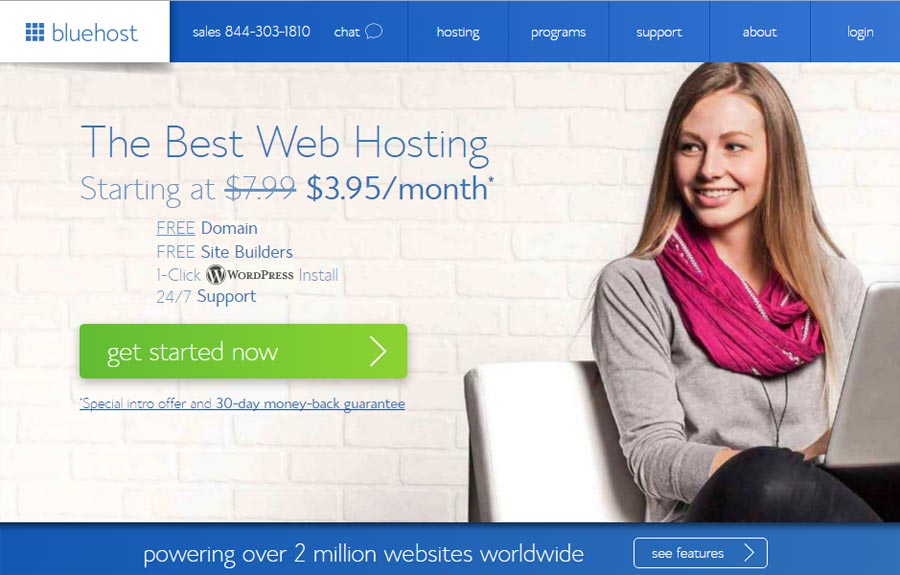 As one of the "Top Dogs" in shared hosting, Blue Host packs an amazing value with great service. It's another case where they have their crap together and everything just works. The onboarding process is easy and you can be up and running quickly. You get Cpanel and SSH too.
Visit: https://www.bluehost.com/
Site5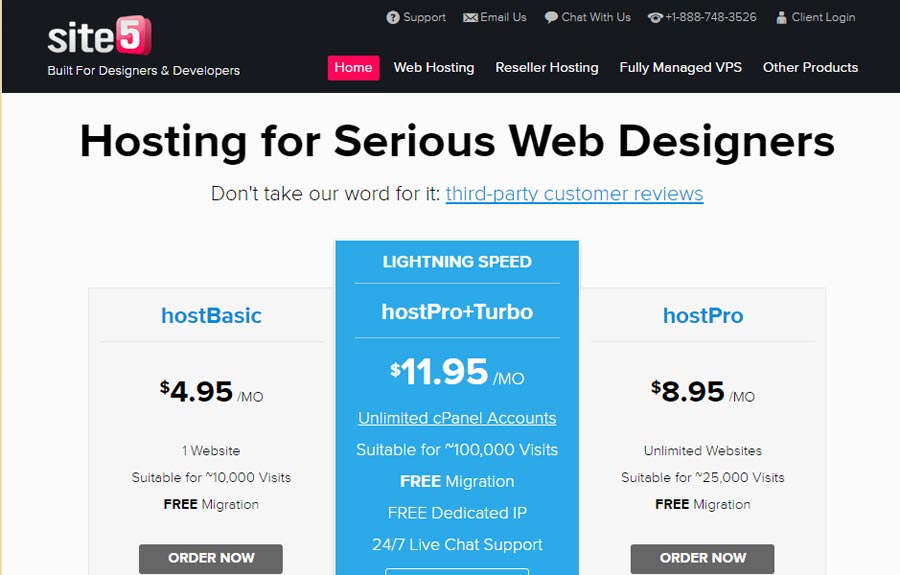 I once heard a collogue of mine call Site5 the best kept secret in hosting. Well it's true, they offer solid hosting and great customer service. One of our clients has 10 sites with them and they are all snappy and quick to respond.
Visit: https://www.site5.com/
Pair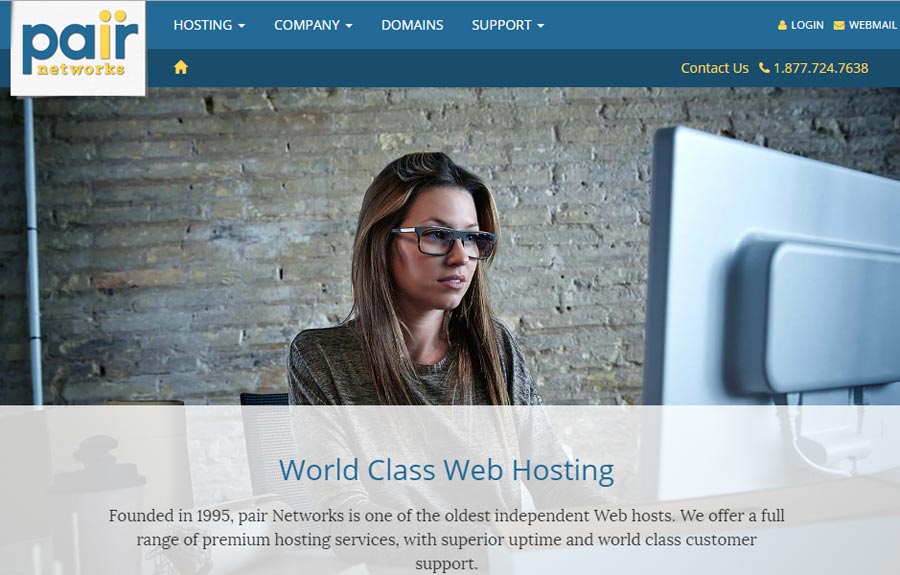 Ok, I'm a bit biased on this one. Pair is a local Pittsburgh company and we've used them for years with local clients. But bias aside, they've been around for over 20 years! They offer cheap shared hosting accounts with plenty of space, great speed, SSH access, and GIT. I've use them for Drupal 7 and 8 site with no issues at all.
Visit: https://www.pair.com/
4. Other Drupal Hosting Options
Here are some of the other reputable Drupal hosting options used by members of the Drupal Linkedin group.
We also have a lot of DIYers who like to setup and manage their own Cloud-based servers, so AWS, Digital Ocean, and Linode are the popular go-to service providers.
Drupal Hosting Guidelines for your Reference:
The Drupal Minimum Hosting Requirements
You can run Drupal on both Windows and Linux based servers, but Linux generally is the most utilized option, plus it's usually cheaper and easier to get your site up and running. https://www.drupal.org/requirements 
PHP
Drupal 8: PHP 5.5.9 or higher
Drupal 7: PHP 5.2.5 or higher (5.4 or higher recommended).
Database
Drupal 8: MySQL 5.5 or higher
Drupal 7: MySQL 5.0.15 or higher
Disk Space
A minimum installation requires 15 Megabytes. 60 MB is needed for a website with many contributed modules and themes installed.
Available RAM
With shared hosting you don't really get a choice, but with VPS/Dedicated/Cloud I would go with at least 1GB or higher – or as much as you can afford.
Drupal sites need a lot of horse power to run quickly, so when presented with the option,  I usually tell people to buy as much CPU power and as much RAM as you can afford.
Critical System Items to Look For:
Generally I assume that any hosting package would include these items, but in the past I've been burned by hosting companies that didn't provide them. All of the companies on the list above DO provide these, so no worries.
PHP
MySQL
mod_rewrite Apache module
Access to your .htaccess file
Ability to manage file/folder permissions
GD Library Support
Extra things to look for (but not required)
Cpanel (I love cpanel)
Ability to do Remote Backups
SSH Access
Ability to create cron jobs
Ability to edit PHP.ini
GIT Version Control
Unique IP Address
Ability to add your own SSL Certificates
Caching, like Zend OpCache, Xcache, Eaccelerator, Memcache , Varnish, or APC
Extra things for Drupal (but not required)
Apache Solr
Drush
Composer
What about Email Hosting?
Here's my 2-cents on email. I always say to never keep your eggs in one basket. Your email should be managed by a separate dedicated email hosting service, like Rackspace, Office360, GoogleApps or your own Exchange Server.
Email really has no business being hosted on a web server, even though it's been standard practice since the inception of web hosting. Email is vital to today's businesses and one DDOS attack on a webserver hosting your email, will take down everything. Hosting email elsewhere is the way to go.
---
Suggesting hosting companies is always a touchy subject. Some people have favorites that I didn't mention, some have had bad experiences with the ones I did mention. 
No matter what recommendations I give, a hosting experience is different for everyone. Even the best company in the world can disappoint you. At least now you have a good list of hosting options that have been used successfully by other Drupal community members.
Lastly, when choosing a hosting company, you always want to make sure that they have a good track record (google them), have been in business for a good while (read their about us page), and have a decent sized staff (look for a team page or job openings page). This will help you weed out the fly-by-nights who just resell Amazon Cloud servers from the serious real-deal hosting companies.
If you have questions or want to share on your experiences about any the companies listed above, please leave a comment below.